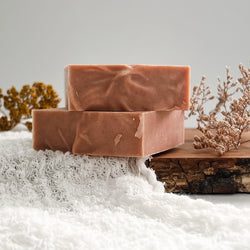 Tobacco Flower Body Bar
{"scale_min":"1.0","scale_max":"5.0","value":"1.0"}
The Tobacco Flower is a beautiful flower. Powdery, Floral, somewhat earthy, and fruity. This scent is unique and addictive. Made with red clay and all-natural fragrance for a moisturizing, cleansing experience. 
How to Use: After you remove your Bath Soap from its wrap, deeply inhale the enchanting aromas. When ready to use, get the Bath Soap wet and work into a lather. Gently cleanse your skin and bask in the rich lather and heavenly smells. Store soap on a well-draining shelf or tray until its next use.
Ingredients: Olea Europaea (Olive) Fruit Oil,*Sodium Cocoate,*Elaeis guineensis (Palm) kernel oil,*Butyrospermum Parkii (Shea Butter), Perfume (Natural), Red Clay
*Organic
**At Modern Skyn Alchemy, we value accurate and up-to-date ingredient information for all of our products. While we strive to maintain the precision of our website's list, we acknowledge that ingredients are subject to change. For the most precise information about the contents of your product, we recommend referring to the details listed on the packaging. Thank you for trusting us to be as transparent and reliable as possible.**
Envelop yourself in the sophisticated and exclusive scent of the Tobacco Flower Body Bar. Crafted from all-natural ingredients, including red clay and a unique floral fragrance, this luxurious formula is designed to leave your skin feeling moisturized and soft. A powdery, yet earthy and fruity aroma surrounds your senses, resulting in an irresistible and truly addictive experience.


**Before purchasing essential oils, it's important to do your research. Some oils should be avoided during pregnancy or nursing, and all ingredients are clearly listed on product labels and here. Be sure to steer clear of any ingredients you may be sensitive or allergic to. Please note that these products are not intended to diagnose, treat, cure, or prevent any disease.**