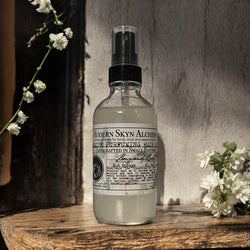 Jasmine Perfuming Hair Mist
Experience the transformative power of our botanical mist as it lavishes your hair with the moisture and care it deserves. Reveal the true beauty of your curls without compromising on purity and quality. Let the refreshing scent of jasmine accompany your curls, leaving them luscious, vibrant, and free from the residue of synthetic additives.
How to Use: Shake well. Mist onto clean, towel-dried hair and scrunch.
Ingredients: Aqua (Filtered Water), Aloe Barbadensis Leaf Water (Aloe Water), *A Proprietary Blend of Essentials Oils.
*Organic
-Contains no Alcohol
**At Modern Skyn Alchemy, we value accurate and up-to-date ingredient information for all of our products. While we strive to maintain the precision of our website's list, we acknowledge that ingredients are subject to change. For the most precise information about the contents of your product, we recommend referring to the details listed on the packaging. Thank you for trusting us to be as transparent and reliable as possible.**

**Before purchasing essential oils, it's important to do your research. Some oils should be avoided during pregnancy or nursing, and all ingredients are clearly listed on product labels and here. Be sure to steer clear of any ingredients you may be sensitive or allergic to. Please note that these products are not intended to diagnose, treat, cure, or prevent any disease.**