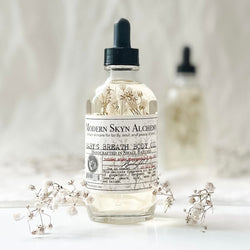 Experience a luxurious scent with Baby's Breath Body Oil, a captivating blend of grapefruit, bergamot, tea leaf, jasmine, peach, lily, musk, amber, and balsam. Its exclusive aroma, inspired by nature, will instantly transport you to a dreamy, faraway oasis. Enhance your beauty routine with this luxurious body oil for an alluring fragrance and a feeling of blissful comfort.
How to Use:  Apply a few drops to clean body or towel-dried hair.
May also be used as a hair mask by applying to damaged areas and allowing 2 hours before shampooing.
INGREDIENTS: *Glycine soja (Soybean) Oil,*Triticum Vulgare (Wheat) Germ Oil,*Argania Spinosa Kernel (Argan) Oil(organic) *Natural Flavors for Fragrances
* Organic

**At Modern Skyn Alchemy, we value accurate and up-to-date ingredient information for all of our products. While we strive to maintain the precision of our website's list, we acknowledge that ingredients are subject to change. For the most precise information about the contents of your product, we recommend referring to the details listed on the packaging. Thank you for trusting us to be as transparent and reliable as possible.**

**Before purchasing essential oils, it's important to do your research. Some oils should be avoided during pregnancy or nursing, and all ingredients are clearly listed on product labels and here. Be sure to steer clear of any ingredients you may be sensitive or allergic to. Please note that these products are not intended to diagnose, treat, cure, or prevent any disease.**