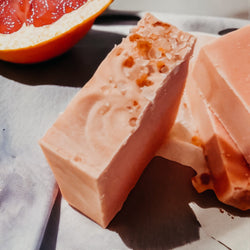 Grapefruit and Pink Salt
{"scale_min":"1.0","scale_max":"5.0","value":"1.0"}
Experience the tart and refreshing aroma of grapefruit! Our uplifting and refreshing fragrance perfectly captures grapefruit's bright and sunny nature.
With top notes of grapefruit, mandarin, and lemon peel, middle notes of jasmine, crisp herbs and orange blossoms, and base notes of oakmoss, cedar, and musk, it's no wonder we can't get enough!
Breathe in the pure joy and exuberance of our delicious grapefruit fragrance oil. Love, love, love!
Ingredients: Lightly infused with 100% essential oils and all-natural fragrances. These double butter soap bars create a calming, relaxing atmosphere, and a stress-relieving bathing experience. 
**At Modern Skyn Alchemy, we value accurate and up-to-date ingredient information for all of our products. While we strive to maintain the precision of our website's list, we acknowledge that ingredients are subject to change. For the most precise information about the contents of your product, we recommend referring to the details listed on the packaging. Thank you for trusting us to be as transparent and reliable as possible.**

**Before purchasing essential oils, it's important to do your research. Some oils should be avoided during pregnancy or nursing, and all ingredients are clearly listed on product labels and here. Be sure to steer clear of any ingredients you may be sensitive or allergic to. Please note that these products are not intended to diagnose, treat, cure, or prevent any disease.**