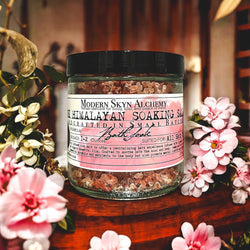 Pink Himalayan Soaking Salts
Replenish your mind and body while experiencing the purest form of tranquility and serenity with our Pink Himalayan soaking salts. Infused with organic essential oils and natural minerals, these expertly blended soaking salts offer a rejuvenating soak to elevate your bath time ritual.
How to Use: Pour a small amount into a warm bath or you can use it as an exfoliating experience by shaking a small amount on wet hands and gently massage over the entire body. 
Ingredients: Pink Himalayan Salts, Epson Salts Essential Oils of *Geranium, *Ylang Ylang, *Patchouli,*Bergamot, and *Orange

*Organic
**At Modern Skyn Alchemy, we value accurate and up-to-date ingredient information for all of our products. While we strive to maintain the precision of our website's list, we acknowledge that ingredients are subject to change. For the most precise information about the contents of your product, we recommend referring to the details listed on the packaging. Thank you for trusting us to be as transparent and reliable as possible.**

**Before purchasing essential oils, it's important to do your research. Some oils should be avoided during pregnancy or nursing, and all ingredients are clearly listed on product labels and here. Be sure to steer clear of any ingredients you may be sensitive or allergic to. Please note that these products are not intended to diagnose, treat, cure, or prevent any disease.**