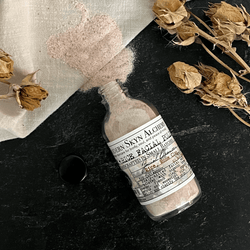 Indulge your skin in a finely-milled exfoliant meticulously crafted to gently polish and clarify. Enriched with antioxidants, our formula features organic rice powder, rosehips, and nourishing rose petals, alongside a distinctive blend of detoxifying clays.

Ingredients:*Oryza Sativa (Brown Rice) Powder,*Rosa Damascena (Rose) Petals,White Kaolin (White Clay),*Castile Soap,*Commiphora Myrrha (Myrrh),*Elettaria Cardamomum (Cardamom),*Rosa Canina (Rose Hips),*Hibiscus Sabdariffa (Hibiscus), Kaolin (Rose Clay)
*Organic
How to Use: Dispense about a half-teaspoon into very wet hands. Rub your hands together to create a creamy paste. Apply the paste to your face in circular motions, avoiding the eye area. Massage your face gently for one minute. Rinse your face thoroughly.

**At Modern Skyn Alchemy, we value accurate and up-to-date ingredient information for all of our products. While we strive to maintain the precision of our website's list, we acknowledge that ingredients are subject to change. For the most precise information about the contents of your product, we recommend referring to the details listed on the packaging. Thank you for trusting us to be as transparent and reliable as possible.**

**Before purchasing essential oils, it's important to do your research. Some oils should be avoided during pregnancy or nursing, and all ingredients are clearly listed on product labels and here. Be sure to steer clear of any ingredients you may be sensitive or allergic to. Please note that these products are not intended to diagnose, treat, cure, or prevent any disease.**